Your benefits with us
Kundenservice

If you have any questions, you can reach us Monday-Friday by phone from 8 a.m. to 5 p.m on +49 89 416 137 431 or around the clock by email at shop@helenegalwas.de

Made In Europe

We produce sustainably and fairly in Europe. We guarantee short delivery routes and know the conditions under which our clothing are manufactured. From the drawing to the finished coat.

Scheider statt Retoure

If something doesn't fit perfectly, instead of returning the item, we offer a credit of €20. Every body is unique and sometimes small changes can make a piece fit perfectly. (Just send an email to shop@helenegalwas.de with your order number and we will take care of your credit).

Handmade

We are an independent designer label with the highest design and quality standards. Helene Galwas works with exclusive prints and designs that you will only find with us.
Häufige Fragen
What payment options do I have?

You can choose from a variety of options. Please refer to our full shipping policies for more information.

credit card, Paypal, payment in advance, Sofort Überweisung, Apple Pay, Klarna, Shop Pay, Google Pay
How can I return an item if I ordered as a guest without an account?
How does the tailor voucher work?

With our motto 'To the tailor instead of return!', we offer a voucher worth €20 if a garment does not fit perfectly. We believe that small adjustments can often make a big difference. Since every body is individual, one cut cannot perfectly dress millions of bodies, but often only a small adjustment is needed and it fits. This way, we reduce the trucks on the road and support local craftsmanship. Learn More
Do you offer size advice?

Yes, we offer individual size advice to ensure that you find the perfect fit for your clothing. Our experts are available to discuss your measurements and help you choose the right size. You can avail this service over the phone or through our customer chat on the website. We believe that well-fitting clothing significantly contributes to the comfort and satisfaction of our customers.
WHERE DO THE FABRICS AND MATERIALS COME FROM AND WHAT MAKES THEM SUSTAINABLE?

Our fabrics primarily come from Europe. Here, we work with the best suppliers in the sustainable sector. We experience great respect and willingness to innovate in our collaboration with old family-run traditional companies in Portugal and Italy.
Sign up for our newsletter!
Sign up for our newsletter and receive exclusive discounts, offers and personal recommendations.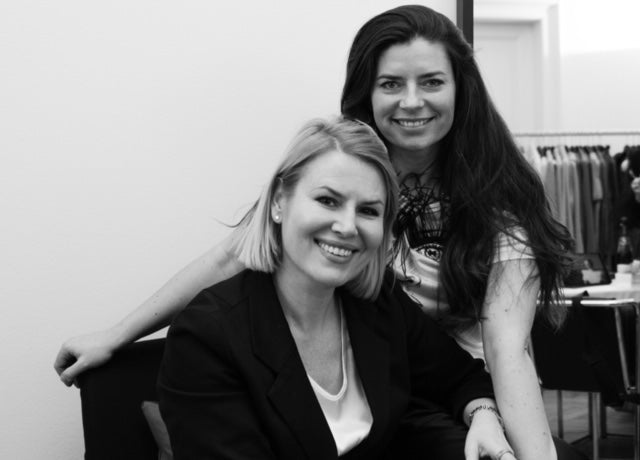 About Us
Helene Galwas and Katja Popp are the minds behind the young fashion label "Helene Galwas". The two have been friends for over 12 years and complement each other perfectly. After various international positions as a designer, Helene has been making custom-made products for her customers in her studio in Hanover for over 10 years and is therefore the creative head of the label. Katja comes from the start-up sector and has helped many companies found and is responsible for operational development.
Learn More